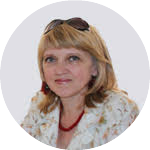 Head of the Department of Computer Science and Teaching Techniques, Ph.D., Associate professor at the Department of Computer science and Teaching Techniques of Volodymyr Hnatiuk Ternopil National Pedagogical University, Ukraine
Teacher Ternopil National Pedagogical University named after V. Gnatyuk since 1989, author of more than 80 scientific and educational works. Were trained in University of Bielsko-Biala (Akademia Techniczno-Humanistyczna w Bielsku-Bialej, Polska), one of the authors of the educational startup "Make a better city".
Research interests: computer science, information technology for education, e-learning, STEM education, educational innovation.